WHAT IS AN AAC DEVICE, AND WHO QUALIFIES FOR IT?
AUGMENTATIVE AND ALTERNATIVE COMMUNICATION (AAC)
AAC is all of the modes of communication that are not verbal expression. People of all ages can use AAC if they have trouble with speech or language skills.
Augmentative means to add to someone's speech.
Alternative means to be used instead of speech.
Types of AAC:
No-tech and low-tech

• Gestures and facial expressions
• Writing, drawing,
• Spelling words by pointing to letters.
• Pointing to photos, pictures, or written words.

High-tech

• Using an app on an iPad or tablet to communicate
• Using a computer with a "voice," sometimes called a speech-generating device.
ROLE OF SPEECH-LANGUAGE PATHOLOGIST
Complete a culturally and linguistically relevant, comprehensive assessment of the individual's speech, language, and overall communication abilities.
Provide trial periods with AAC systems and collect data on functionality, effectiveness, and efficiency of use.
Provide a variety of multimodal AAC supports as appropriate, including no-tech, low-tech, and high-tech, to allow the child to communicate across various environments in the school setting.
Collaboratively write and implement goals related to speech, language, literacy, participation, and use of AAC as part of the individualized education program (IEP) team and/or Individualize Family Service Plan (IFSP).
Ensure that the student's needs are met by others on the evaluation and treatment team.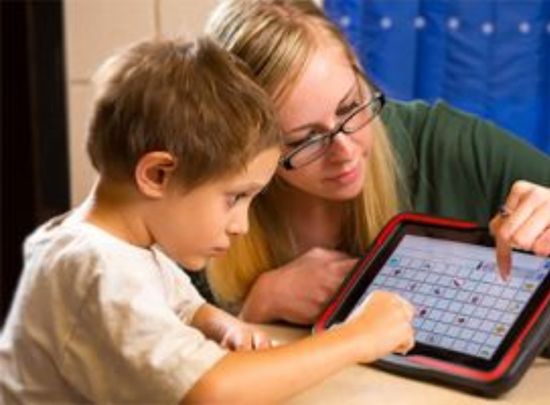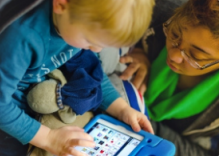 WHO IS QUALIFIED TO USE AAC DEVICE?
People who can t rely on their speech alone.
Some children with disabilities such as autism, Down syndrome, cerebral palsy, and unspecified developmental delays have shown success with AAC as young as 16 months old.
HOW DO I GET STARTED?
Contact Speaking of Speech and Language Therapy at 602-456-7199 to get started with AAC. We have trained professionals to evaluate and treat with AAC.
WHAT ABOUT PAYMENT?
Many insurance companies cover AAC devices. We will work with you and your insurance company to secure funding.